Case Studies
---
The Laurel Tree Academy provides early childhood education and care for ages 6 weeks through 6 years in two South Jersey locations. Their second location in Lumberton, NJ was about to open when they contacted VisionLine to help them with a Web strategy to attract more students for the fall semester. We worked very hard […]
Learn More
---
Ocean Family Gastroenterology is a group of GI doctors in Ocean County with two locations (Whiting and Toms River). The area they cover is terribly underserved, forcing patients to travel to Burlington County or Brick, NJ. OFG aims to bridge the "care gap: in Toms River, Whiting and the surrounding towns. VisionLine created an extremely […]
Learn More
---
Blackstone Security Group is the security arm of Blackstone Investigations Group. BSG provides security services throughout New Jersey, as well as the greater Philadelphia and New York areas. BSG provides Executive Protection teams for celebrities, corporate executives and musical acts, a wide variety of K-9 team services, such as protection work and explosive sweeps, armed […]
Learn More
---
The largest grocer in the greater Philadelphia area called us to help them create a Website where they can promote their own high end gourmet meals from chef-inspired recipes, made from the freshest and finest ingredients. Brown's delicious fine food products are only available in Brown's 12 Super Stores…Shop Rite and The Fresh Grocer supermarkets […]
Learn More
---
Everest Urgent Care operates two walk-in medical clinics in Pennsylvania. VisionLine was tasked with creating their first Website and promoting it through search engine optimization and a pay-per-click campaign. At Everest Urgent Care, you will receive walk-in medical treatment from friendly and experienced medical providers 7 days a week including most holidays. With online reservations, […]
Learn More
---
Malco Electric is a family owned electrical contracting company based in Southern New Jersey that has been in business since July 2007 but has never had a Website until just recently. VisionLine was happy to help Malco get themselves a Website that is worthy of their long history and large client portfolio. Customer job stories […]
Learn More
---
The Margate Dairy Bar is a staple of shore and has been serving frozen treats since 1952. VisionLine recently completed their second Website in the last 15 years. The site features company information, hours of operation, photo galleries, videos, menus and even an online store where customers can purchase merchandise. Customers can also buy gift […]
Learn More
---
Air Distribution Systems (ADS) is a union is a heating, ventilation, and air conditioning (HVAC) contractor based in Cherry Hill, NJ. For over 25 years they have specializes in the fabrication and installation of commercial and industrial ductwork, for businesses throughout the Delaware Valley and surrounding area. ADS has worked on some of the most […]
Learn More
---
Christian Lang is a Gloucester County REALTOR in Mullica Hill who is HUNGRY for new business and puts in the hard work needed to get it. We love working with real estate agents who understand the value of hard work both online and offline. When we met Christian, he was in the process of setting […]
Learn More
---
South Jersey Elevator is a well-established local business that installs and services both commercial and residential elevators throughout South Jersey and Greater Philadelphia. The company has a very successful growth model and was looking to extend their lead generation channels to the internet. An employee from South Jersey Elevator was quite impressed with the results […]
Learn More
---
Bernadette Augello has been one of our most successful Real Estate clients for over 3 years. We helped take her online footprint to the next level and recently helped her redesign her site with a new, elegant look and feel. The site fetches over 2,000 visitors per month, the majority of whom are from the […]
Learn More
---
BMB Sons Plumbing and HVAC is a Mays Landing based contractor who was referred to us by our partners at Riordan Design & Marketing. Riordan had designed an amazing corporate identity and brochure for this company but they had no online footprint outside of a simple Facebook page. VisionLine Media gathered all available brand assets […]
Learn More
---
Robin "RCB" Carter is a highly aggressive South Jersey real estate agent with a focus on Cumberland County. She is one of the few South Jersey agents that understands the value of creating original Web content. When we met Robin she had amazing videos, articles and social media posts, but her site was doing noting […]
Learn More
---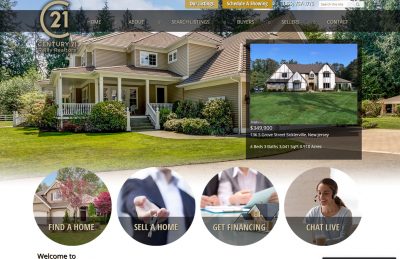 Century 21 Reilly Realtors is a long-time client of ours. We actually built their first Website over 10 years ago. While that site served its purposes, it was VERY outdated and did not meet 2020 best practice standards for Web development and mobile responsiveness. VisionLine worked with C21 Reilly to build a them new Website […]
Learn More
---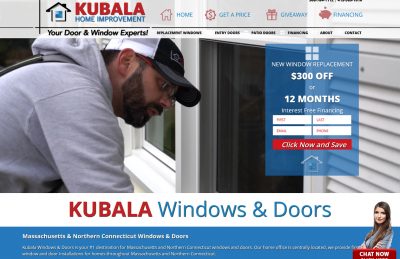 Kubala's new Website represents the power of content. Their old site was severely lacking content. Every page of their old site had well under 250 words and contained absolutely no geographic qualifiers. VisionLine worked with the team at Kubala Home Improvement to develop 30 pages of detailed content about their products and services. The site […]
Learn More
---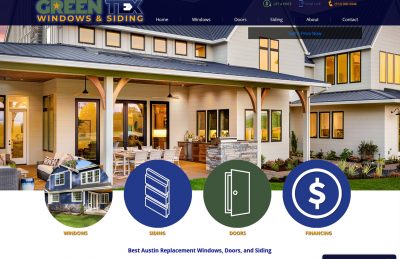 GreenTex is a family run business in Austin, Texas that has a reputation for quality and honesty. While their workmanship is amazing, their web footprint was very small. Their old site had no geographic qualifiers and lacked proper lead capture methods and conversion tracking. GreenTex contacted VisionLine through one of our long time clients who […]
Learn More
---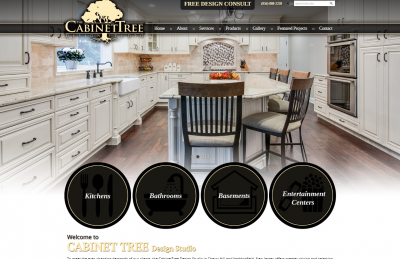 The CabinetTree Design Studio in Cherry Hill and Haddonfield, New Jersey is a South Jersey cabinet design center offering offers entry level cabinets to to full custom cabinets from multiple manufacturers to meet every client's need. For over 20 years, Cabinet Tree has had a comprehensive showroom with traditional and contemporary options from the top manufacturers […]
Learn More
---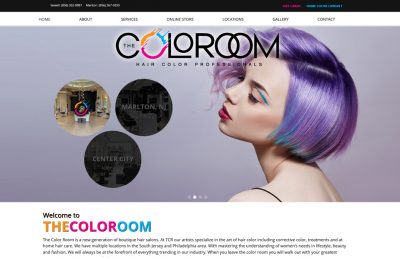 The Color Room is a hair coloring and hair color correction salon with locations in South Jersey and Philadelphia that offers expert hair color services and treatments for a variety of hair types. The Color Room initially contracted with VisionLine Media to create a new Website and local SEO program to drive traffic to each […]
Learn More
---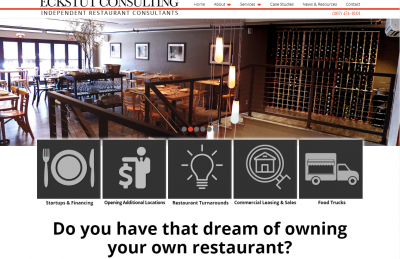 Eckstut Consulting advises restaurateurs, investors, lenders, property owners, and other stakeholders. By working with them, Eckstut plans and implements strategies for successful, stable, and profitable restaurants and food service operations. This business had a VERY old website that was outdated and its security was compromised. They also had very little content and no high resolution […]
Learn More
---
Trilogy Partners is a business consulting firm specializing in Finance, Operations, Strategic Planning, Executive Leadership and Coaching serving Philadelphia, NJ and NYC.
Learn More
---
Jersey Shore IV Hydration Therapy is New Jersey Shore's first discrete, mobile IV Hydration and vitamin therapy specialist providing in-home and on-site IV Hydration Drips with fluids, vitamins, antioxidants, and over the counter treatments for a variety of conditions. VisionLine was tasked with launching this new business from scratch. This involved creating a mobile-first Website […]
Learn More
---
Synch-O LLC is Greater Philadelphia and South Jersey's premier provider of executive coaching and peer councils for businesses. This firm had an older, outdated Website that was no longer effectively conveying their message or their brand. We created a new, responsive design that effectively communicates the benefits that Synch-O offers to clients. The content of […]
Learn More
---
REEHL Investigations and Security offers private investigations and private security services in South Jersey and Greater Philadelphia.
Learn More
---
Batsto Village is an historic site in the South Central Pinelands of New Jersey.
Learn More
---